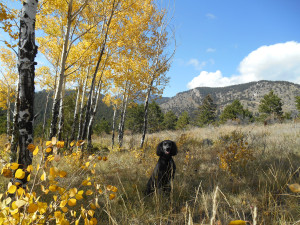 What is Animal Assisted Therapy?
Animal-assisted therapy (AAT) "is a goal-directed intervention in which an animal is incorporated as an integral part of the clinical healthcare treatment process.  AAT is delivered or directed by a professional health or human service provider who demonstrates skill and expertise regarding the clinical applications of human-animal interactions."  (source: Denver Pet Partners)
Who is Maggie?
Maggie is Dr. McFarland's rescued labradoodle who is a registered therapy animal through Delta Society / Denver Pet Partners.  Maggie and Dr. McFarland have completed 16 hours of a training workshop and passed all requirements set forth by the Delta Society and Denver Pet Partners.  Maggie is 1/4 labrador retriever and 3/4 poodle, making her mostly hypoallergenic.   She is a gentle, happy, dog who has recovered from her own trauma.  Maggie often times shares her story of healing and overcoming life challenges and her struggles with learning how to trust others. Hearing her story can be very therapeutic for others who have also endured traumatic events in their lives. Maggie is the only registered therapy animal in Golden, CO and having her work with you can significantly increase the effectiveness of your treatment.
Benefits of working with an animal include:
Lowers blood pressure
Releases bonding chemicals (called oxytocin) that has been shown to improve relationships and decrease anxiety and eating disorder behaviors
Improves cardiovascular (heart) health
 Produces a calming effect by releasing neurotransmitters and endorphins
 Decreases anxiety and depression
 Decreases physical pain
 Increases and improves communication
Decreases loneliness and boredom
Helps eliminate fears, specifically that of dogs and other animals
Improves the ability to relate and bond with the therapist, making treatment more likely to be effective
Improves empathy skills
Improves self-esteem and confidence
Decrease symptoms associated with post traumatic stress disorder
Call today to find out how working with Maggie and Dr. McFarland can help you live the life you want! 303-709-5897 tonya@trustedtherapy.com